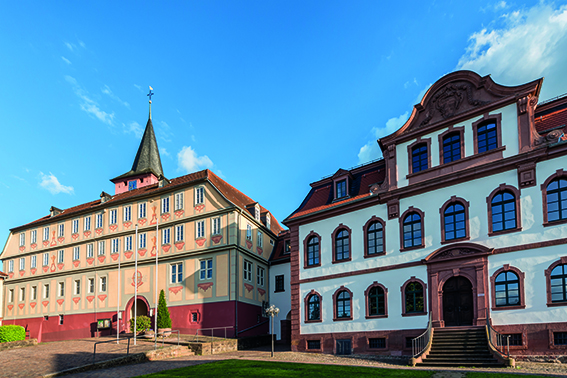 (Title-picture from R.Veit/Bad König- the two Bad König- Castles in the center)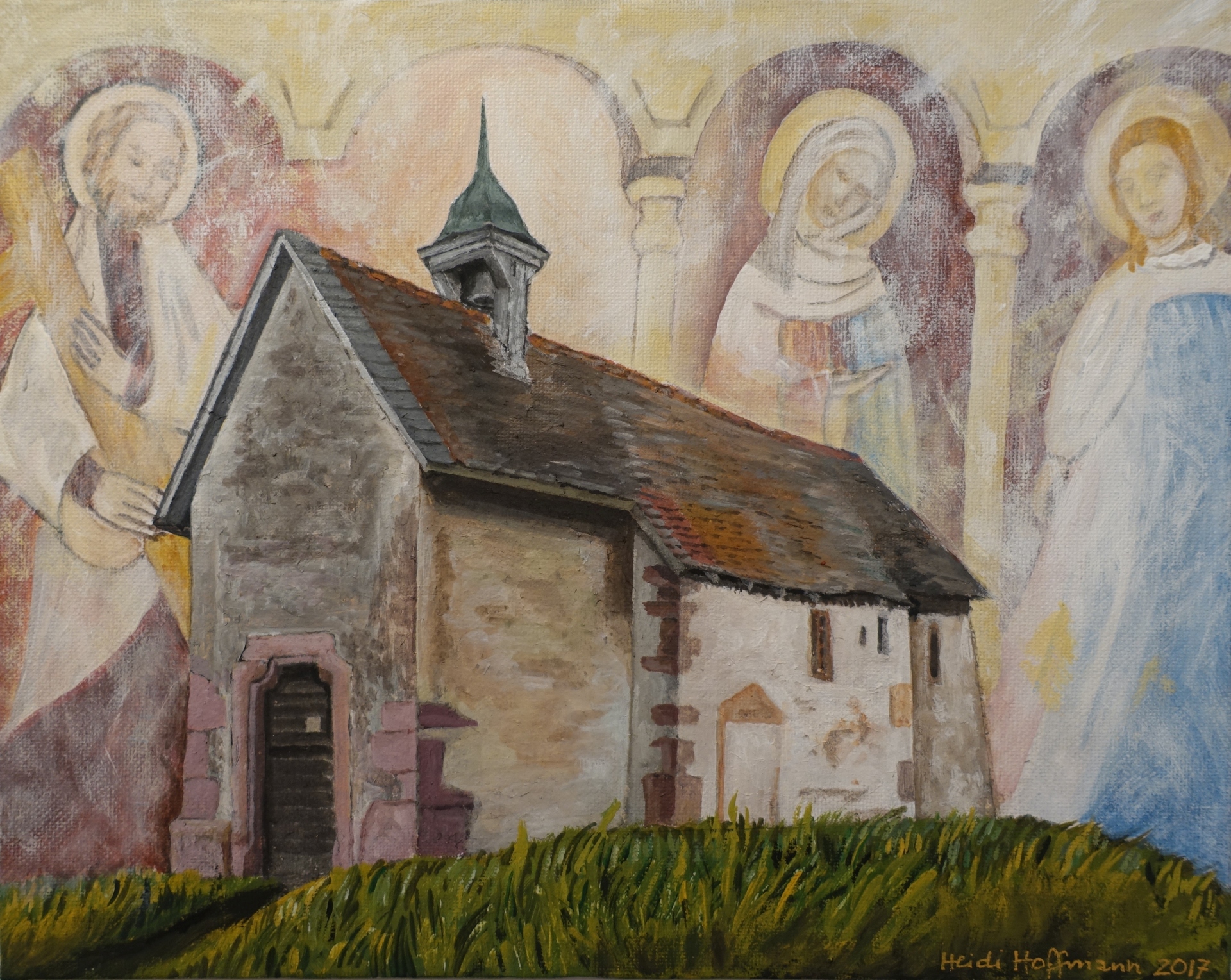 (The "Historische Kapelle" in the origins of the "Karolinger" in the beginning of  the 9. Centrury- a wonderful painting from Heidi Hoffmann, Bad König/Germany)
Bad König im Odenwald/ Germany
All about you must know about Bad König/Germany in a short three minutes-Lesson:
Just 40 km from Darmstadt and 60 km from Frankfurt and Mannheim, surrounded by beautiful forests, lies the spa town Bad König, Odenwald.
The spa town itself counts 4,972 inhabitants, 9,530 inhabitants including the districts Etzen-Gesäß, Fürstengrund, Kimbach, Momart, Nieder-Kinzig, Ober-Kinzig, Gumpersberg and Zell.
Winters in Bad König are mild, air polluting industry is not found in Bad König and its districts – not even in the neighboring regions. A lively village center with little stores invites you to go shopping. Some of the stores offer high quality regional food.
The approximately 17 hectare spa garden with two lakes and a recreational area is ideal for hours of rest and relaxation. Here you can play a game of minigolf or a walk around the lakes, discovering the stone sculptures that can be found all over the park. You could also follow the planet's path from sun to Pluto and learn about the size of our solar system.
In a circuit with play and fitness equipment for all ages, coordination, muscle strength, mobility and regeneration are promoted. A water playground made of natural materials allows children of all ages to have fun and play with and in the water.
Sport and leisure are very important to us. Discover the Nordic Walking Park with interesting, 90 km long, certified routes and marked trails in different degrees of difficulty and extend. Diverse clubs offer activities for every Interest. In addition, hikers, cyclists, golfers, tennis players and many more will find attractive offers. Even those who prefer strolls on short, evenly stretched trails with frequent opportunities to rest, will find their favorite route in the spa gardens around the lakes. The illumination of the paths allows for safe and pleasant walks or walking even at dusk.  (Hinweis/Quelle: Stadt Bad König im Odenwald- City of Bad König/Germany/englischsprachige Version/Fassung vom 09.Februar 2021)
(Die Seite befindet sich noch im Auf- und Ausbau. This Website will be in continous status.)
(Heimat- und Geschichtsverein Bad König e.V.- Stand: 09.02.2021)
https://www.hgv-badkoenig.de/wp-content/uploads/2019/10/HGV-Bad-König-e.V.-Kalender-2020-Odenwald-Bad-Königer-Schlossensemble-Bernd-Wittelsbach-Unbenannte-Anlage-00023-002.jpg
378
567
HGV
https://www.hgv-badkoenig.de/wp-content/uploads/2021/11/HGV.jpg
HGV
2021-02-09 09:00:22
2021-02-17 12:56:00
Bad König im Odenwald/Germany: One of Germanys little Towns of Loveless, beautiful Nature and a lot of History